Seminars run in three groups separately. In this page we list just joint seminars and other activities for broader audience.
[Datalys 1.31 11:00]
[UXI 3.08 11:00]
[NN 4.08 11:00]
18.4.2018 » IIT.SRC 2018
Keynote: Cristina Conati: The Eyes Are the Windows to the Mind: Implications for Intelligent User Interfaces [presentation]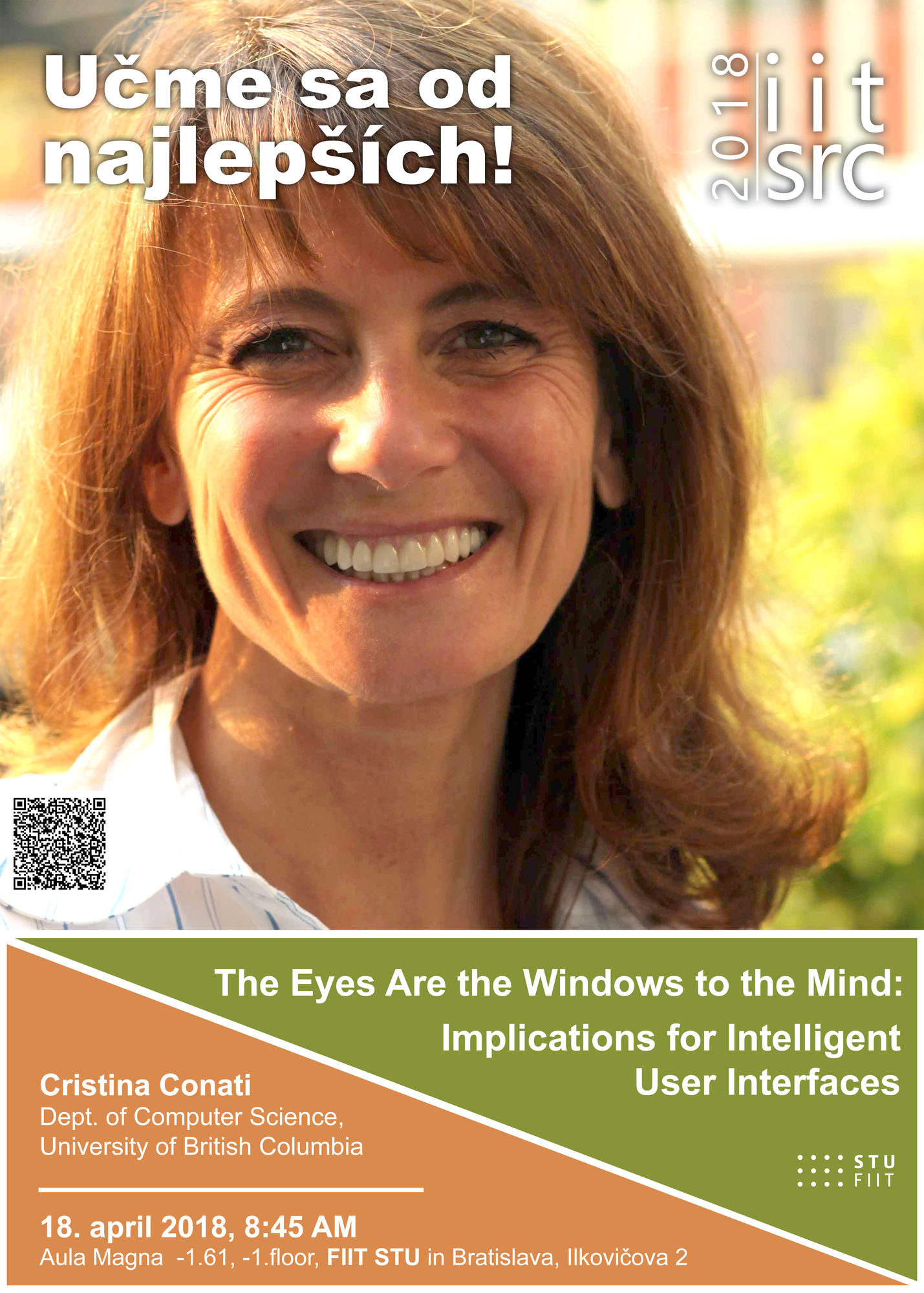 Bachelor Degree Program PeWe Members
KŇAZE Adam: Generating More Coherent and Informative Responses with Neural Chatbot
RAFČÍKOVÁ Katarína: Automatic Evaluation of User Interface Based on Aesthetic Features
SLANINKA Andrej, MAJERČÁK David, SITÁROVÁ Daniela, ŽÁK Martin:   Webable: Way of Giving Eyes to Blind People on the Web
ŽATKOVÁ Veronika: Customer's Intent Prediction Based on Help Desk Data
Master Degree Program PeWe Members
BERGER Patrik: User Modelling for Churn Prediction in E-commerce
KOSTOVA Sandra: Automatic Assessment of User's Curiosity Based on Behavior on the Web
KREN Michal: Improving Robustness Against Websites' Changes During Web Data Extraction
MOKRÝ: Martin Identification of the User Skill on the Web Based on Patterns in Eye Tracking Data
OLEJÁR Martin: Semantic Conflict Detection in Software Models
PAPP Dániel: Visual Attention and Saliency Mapping on Web Page Elements
RAFAJDUS Adam: WeGAN – Weather Forecast with Generative Adversarial Networks
ROŠTÁR Marek: Personalized Recommender with Taking into Account Visual Input
SALÁT Matúš: User Segmentation for Personalization of Newsletters in CQA Systems
ŠRANK Martin: Improving Diversity and Freshness of Newsletters in Community Question Answering Systems
Doctoral Degree Program PeWe Members
GAŠPAR Peter: User Feedback Interpretation for Personalized Recommendation: Visual Bias Analysis
HLAVÁČ Patrik: Towards Estimating Web-Navigation Skills by Gaze Metrics
SVRČEK Martin: Detection of UsabilityPproblems on the Web by the Use of Eye Tracking
TP CUP teams with PeWe Members
HUCKO Michal, ŠTEFANCOVÁ Elena, VALČIČÁK Miroslav, VÍTEK Andrej et al.: Votter: A Web Tool for Managing Decisions
KAŠČÁK Ondrej, MANDUCH Lukáš et al.: ReCommers – Recommendation for E-commerce
MELÚCH Michal, NAGY Adrián et al.: Collab-UI: A Collaborative User Interface Prototyping Tool
22.2.2018, 14:30, 3.08 » Habilitation defense and lecture

Peter Lacko: Reinforcement learning in domain of games
Popularita umelých neurónových sietí v doméne strojového učenia v poslednom čase významne vzrástla. Je to hlavne vďaka novým úspešne použitým prístupom učenia a architektúram neurónových sietí, ako aj dostupnosťou masívne paralelných výpočtových prostriedkov na trénovanie sietí (čipov grafických kariet). Učenie, alebo trénovanie neurónových sietí môže byt vykonávané tromi prístupmi – učenie s učiteľom, bez učiteľa a s odmenou a trestom (angl. supervised, unsupervised, reinforcement learning). Učenie s odmenou a trestom by sa dalo zaradiť medzi učenie bez učiteľa a učenie s učiteľom. Nepotrebujeme totiž ohodnotenú trénovaciu množinu, ale nezaobídeme sa úplne bez externej informácie ako je to pri učení bez učiteľa. Postačí nám ale, ak dokážeme ohodnotiť správanie neurónovej siete odmenou alebo trestom. V prednáške sa zameriame na použitie tohto učenia pri hraní doskových hier.
22.2.2018, 12:30, 3.08 » Habilitation defense and lecture
Michal Kompan: Personalized recommendation on the Web
Personalizované odporúčanie je mladou, no o to vzrušujúcejšou, oblastou skúmania. Vďaka svojmu prepojeniu s webom a webovými technológiami prináša denno-denne nové výzvy. Za hlavný cieľ metód personalizovaného odporúčania môžeme považovat zlepšenie používatelského zážitku ci redukciu informačného zahltenia. Tieto, samy o sebe, predstavujú významné úlohy výskumu v súčasnosti.
Predkladáme súhrn nášho výskumného prínosu v doméne personalizovaného odporúčania. Zahrnieme dôležité aspekty a predostrieme hlavnú ideu navrhnutých metód. Načrtneme problémy a výzvy, s ktorými sa aktuálne zaoberá vedecká komunita u nás či v zahraničí.
6.12.2017, 13:30, 3.08 » Doctoral dissertation defense
We focus on modelling user short term behaviour, which is important in many situations, for example if there is a high number of occasional and one-timer users with unknown preferences. The main contribution of this thesis is proposal of domain and language independent method for modelling changes in user short-term behaviour on the level of individual actions in user session. The model captures the user behaviour from different time periods as well as in comparison to behaviour of other users. We evaluated the model through a task of user's session end intent prediction. This task represents a modification of customer loss task transformed into the short-term context, where we, in online time, predict if the user will leave actual webpage or if he will continue the visit.
30.11.-1.12. 2017, Košice, Slovakia » WIKT 2017
Mária Bieliková, Anton Heretik, Milica Schraggeová, Jakub Šimko, Ivan Srba, Michal Kompan, Daniela Turoňová, Peter Gašpar, Veronika Gondová, Viktor Svetský and Róber Móro. Rozsiahla dátová vzorka prepájajúca správanie používateľov e-obchodu s explicitne zistenými osobnostnými charakteristikami

Veronika Gondová, Michal Kompan, Peter Gašpar and Mária Bieliková. Predikcia platovej triedy používateľov e-obchodu

Samuel Pecár and Marián Šimko. Výzvy spracovania používateľmi vytváraného textu v slovenčine

Pavel Mariani and Mária Bieliková. Proces učenia ako zdroj transferu poznania: strojové učenie verzus ľudské učenie
28.11.2017, 14:00, 3.08 » Doctoral dissertation predefense
Ondrej Kaššák: Modelling Changes in User Short-term Behaviour on a Website
27.11.2017, -1.58, 16:00 » Data Science Club
Jakub Ševcech (FIIT): Feature Extraction
Jakub Mačina (Exponea): Natural Language Processing
9.11.2017, -1.58 » World Usability Day

12.20 – 12:50 UXI@FIIT: UXtweak – innovative research platform for complex user experience testing on the Web
Predstavíme novú výskumnú platformu na testovanie používateľského zážitku, ktorá kombinuje tradičné metódy s pokročilými metódami na analýzu správania sa používateľov na Webe vyvinutú v Prvom výskumnom centre používateľského zážitku a interakcie na Slovensku – UXI. Zistite, prečo a kde sa používatelia strácajú na vašich webových stránkach, získajte okamžitú spätnú väzbu od používateľov pre návrhy svojich rozhraní, pozrite sa na svoje stránky prostredníctvom očí návštevníkov, realizujte vzdialené moderované používateľské štúdie, vyskúšajte pokročilé metódy na automatickú analýzu aktivít používateľov – napr. metódu na automatickú identifikáciu problémov použiteľnosti so zohľadnením kontextu.
9.11.2017, -1.57, 10:00 » PeWe Seminar
Igor Farkaš (FMFI UK Bratislava): Connectionism modelling in cognitive robotics
Kognitívna robotika sa zameriava na vysvetľovanie inteligentného správania človeka tým, že konštruuje roboty (fyzické alebo simulované), vybavené mechanizmami učenia. V rámci prednášky predstavíme paradigmy strojového učenia pomocou umelých neurónových sietí (s učiteľom, bez učiteľa, posilňovaním) a ich využitie pri riešení konkrétnych problémov v robotike ako napríklad vznik referenčných rámcov v priestore, vznik somatosenzorických reprezentácií tela alebo schopnosť siahať na objekty a uchopovať ich.
30.10.2017, -1.58, 16:00 » Data Science Club
Juraj Sottnik (Exponea): How to Choose a Storage for E-shop Clickstream Data
Jakub Ševcech (FIIT STU): Introduction to Exploratory Analysis: Measures, Visualizations and Practical Examples
26.10.2017, -1.57, 10:00 » PeWe Seminar
19.10.2017, -1.57, 10:00 » PeWe Seminar
21.9.2017, -1.57 » PeWe Seminar
Mária Bieliková: Autumn Semester Kick Off
PeWe Core Members: Member Benefits – member restricted access
Introduction to PeWe specialized research groups
27-31.8. 2017, Como, Italy » RecSys 2017, Photos
Educational Question Routing in Online Student Communities
by Jakub Macina, Ivan Srba, Joseph Jay Williams and Maria Bielikova – Full paper at RecSys
Beyond User Preferences: The Short-Term Behaviour Modelling
by Michal Kompan, Ondrej Kaššák and Maria Bielikova – Paper at RecTemp Workshop

20-24.8. 2017, Wuppertal, Germany » ECEM 2017
Infrastructure and Methodology for Group Studies in Multiple Eye Trackers Laboratory
by Martin Konopka, Robert Moro, Peter Demcak, Patrik Hlavac, Jozef Tvarozek, Jakub Simko, Eduard Kuric, Pavol Navrat and Maria Bielikova
Robust Recording of Program Comprehension Studies with Eye Tracking for Repeatable Analysis and Replay
by Jozef Tvarozek, Martin Konopka, Jakub Hucko, Pavol Navrat and Maria Bielikova
9-12.7. 2017, FIIT STU » UMAP 2017
Behavioral Patterns Mining for Online Time Personalization
by Tomas Chovanak, Ondrej Kassak, Maria Bielikova, Extended Abstract
Experiences Using an Interactive Presentation Platform in a Functional and Logic Programming Course
by Vasileios Triglianos, Martin Labaj, Robert Moro, Jakub Simko, Michal Hucko, Jozef Tvarozek, Cesare Pautasso, Maria Bielikova – PALE 2017 workshop
9-10.7. 2017, FIIT STU » SMAP 2017
Sentiment Analysis of Social Network Posts in Slovak Language
by Rastislav Krchňavý and Marián Šimko
Visual Pollution Localization through Crowdsourcing and Visual Similarity Clustering
by Zuzana Kucharikova and Jakub Simko
Detecting Genuinely Read Parts of Web Documents
by Patrik Hlaváč and Marián Šimko
Towards Adaptive Brain-Computer Interfaces: Improving Accuracy of Detection of Event-Related Potentials
by Robert Moro, Patrik Berger and Maria Bielikova