Visualization of Eye-Tracking Records
Martin Civáň

Abstract: One of the most efficient ways how to do eye-tracking experiment with many participants is to record more people at one session that one by one. However usual eye-tracking recording programs are not optimal for this kind of task. So the UXR infrastructure has been developed to help us with it. Unfortunately, the client nor the server part does not include any visualization tool to take a look at the recorded data.
In our work, we are trying to develop a visualization tool compatible with the data from the UXR infrastructure. One of the considered approaches are to create import module to Ogama. While exploring Ogama, some UX problems were detected and possibly experiment set-up export plugin was considered to be implemented.
Discovery of gaze patterns in navigational tasks on the Web
Gabriel Csikmák
Abstract: Nowadays, the use of the Web has become an everyday activity of almost every person in the world. Their most popular actions include searching for information, which they complete on so-called web search engines. However, their behavior during interactions with these resources can be affected in several ways. There are various efforts that try to understand, also to describe the behavior of users on the Web at the same time.
One possible way of observing is to use a gaze tracking device to get valuable information about the interaction of users on the Web. For this purpose, eye-tracking methodology can be used, which is increasingly used for such types of observation. The information obtained by this tool allows us to determine different patterns of behavior based on user properties or also based on the situation on the Web.
The aim of this work is to understand the behavior of users when performing navigational tasks on the Web, also to determine how their behavior can be influenced while interacting with the browser. It also aims to suggest a solution for information gaining from user interaction and then perform analysis on a diverse sample of users for this type of solution.
Inference of user characteristics based on scanpaths
Samuel Gedera

Abstract: Filling in questionnaires takes a lot of time to evaluate user characteristics. It has been shown, that i tis possible to determine the values of individual user characteristics on the basis of collected data from eye-tracker. As a result of his eye movements, the values of his individual user characteristics can then be inferred. In a domain like an e-commerce, this knowledge is important, as a graphical interface can be tailored to the user based on these values, which can lead to a reduction in task time.
In our work, we focus on inference of user characteristics, based on data, that is collected by the eye-tracker. There are a lot of work on this issue, but the accuracy of inference of the user characteristics are different, which is caused by different methods in inferring this characteristics. It should be a different user model, where researchers try to combine different features or the algorithm itself, which is based on this mode. In our work, we want to focus on the user model, where, in addition to standard features such as fixation length, fixation number, and more, we want to extend this model with scanpath that could improve accuracy in inference of user characteristic.
Analysis of fake news reader's view behaviour
Martina Hanáková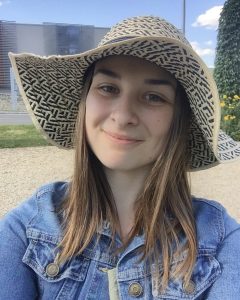 Abstract: Since fake news overwhelm the public online space more than ever before and manipulate the minds and opinions of people, it is necessary to understand these messages and know how to detect them. The aim of this work is to reveal the features of fake news by the eye-tracking technique. We want to investigate the behaviour of users when reading true and fake news. Next sentence serves us as a basis: "Everyone wants to read about things that confirm his point of view".
We decided to prepare an experiment in which we provide the participants with articles that are in line with their opinion and the ones that are in opposite. The articles could be both true and false. The important thing is that participants will have no clue what is the experiment really about.
After the experiment all participants fill in a questionnaire to determine their opinion on selected themes and rate of interest about that themes. The questionnaire also helps us to define which articles are in line with the conviction of the participant and which against it. Afterwards we will verify differences in behaviour of participants from collected data.
Human Behaviour in the Web Navigation
Patrik Hlaváč
Abstract: I am very curious about the different navigation strategies of skilled and novice users. We selected interesting websites as stimuli, we performed an eye-tracking study with 120 participants and now we are working on explorative analysis among participants. Participant's gaze is the most investigated feature.
As part of this process, we design questionnaire suitable for representing user web-navigation skill.